Xmaru PACS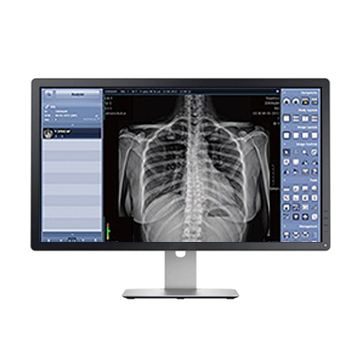 Overview
Xmaru PACS is a scalable and affordable Picture Archiving and Communication System tailored to the needs of small, single-site imaging environments such as Chiropractic and Orthopedic clinics and primary care and specialty medical practices. Xmaru PACS is designed to support up to six modalities allowing you to quickly and easily acquire, view and manage any type of DICOM medical images.
Server
Server which simultaneously acquires and stores exams from DICOM compliant modalities.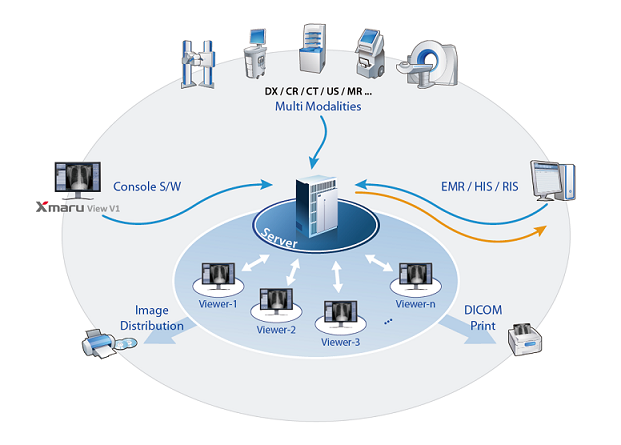 Viewer
Viewer which provides the ability to review and read exams on Xmaru PACs. Includes all standard and many enhanced DICOM Viewer capabilities including:
Measurement tools allowing multiple measurements on a single image
View virtually unlimited number of exams simultaneously (Limited only by PC resources)
View multiple series simultaneously in a variety of screen layouts
Easily scroll through images using keyboard or mouse controls
One button zoom to actual size (Without monitor calibration)
One button reset image to original state
Easily auto-apply image display parameters (zoom factor, win/lvl, flili state, etc.) to all images in series or to all series
Speed controllable Cine Function for multi-image animation with loop or bounce option
Easily copy images to Windows Clipboard or export images to BMP, JPG or DICOM files for use in other applications or for training or demonstration
DICOM printing with true size options
To media allows the user to save images as DICOM files which can be anonymized before saving. Images can be burned directly to a local workstation CD burner.
System Requirements
| | |
| --- | --- |
| Monitor Resolution (w x h) | 1,920 x 1,080 (Optimized) |
| CPU | Intel Core™ i5 or more |
| Memory | 4GB or more |
| Video Card | Intel GMA 950 or more Intel GMA X3500 or more Nvidia Geforce FX5200 or more ATI Radeon 9000 or more 256MB or more (No Shared Memory) |
| Operating System | Windows 7 (32bit/64bit) Professional Window 8 (32bit/64bit) |
The specifications listed on this website are subject to change without prior notification.
This product is a medical device and the users must read the "Precautions" and "Usage" thoroughly.
Advertising deliberation acquired : Deliberation number 2017-I10-18-1318