1215FCB·FGB
High-Sensitivity Dynamic
Detector Optimized AXI
X-ray inspection of all visible and hidden solder joints
New detector option for high resolution X-ray inspection of electronic assemblies
Flexible use for 2D and 3D inspection

High Class Image Quality for AXI

1215F – 1215F - High Resolution Type
Superior Pixel Resolution new detectors more competent to semiconductors and tiny electronics components inspection
Advanced evaluation without overlaying features in the X-ray image

1215F - High Speed Type
More than 2X faster than conventional
Stay the sensitivity without data loss even at high speed

1215F – 1215F- Premium Solution Type
Premium Dynamic Detector of High-resolution, High-Speed, High-Sensitivity, High-Energy
High-resolution even at a high output : up to 225kVp
Excellent High-Resolution
by CMOS Technology
Standard models in a range of pixel and detector sizes
Robust mechanical design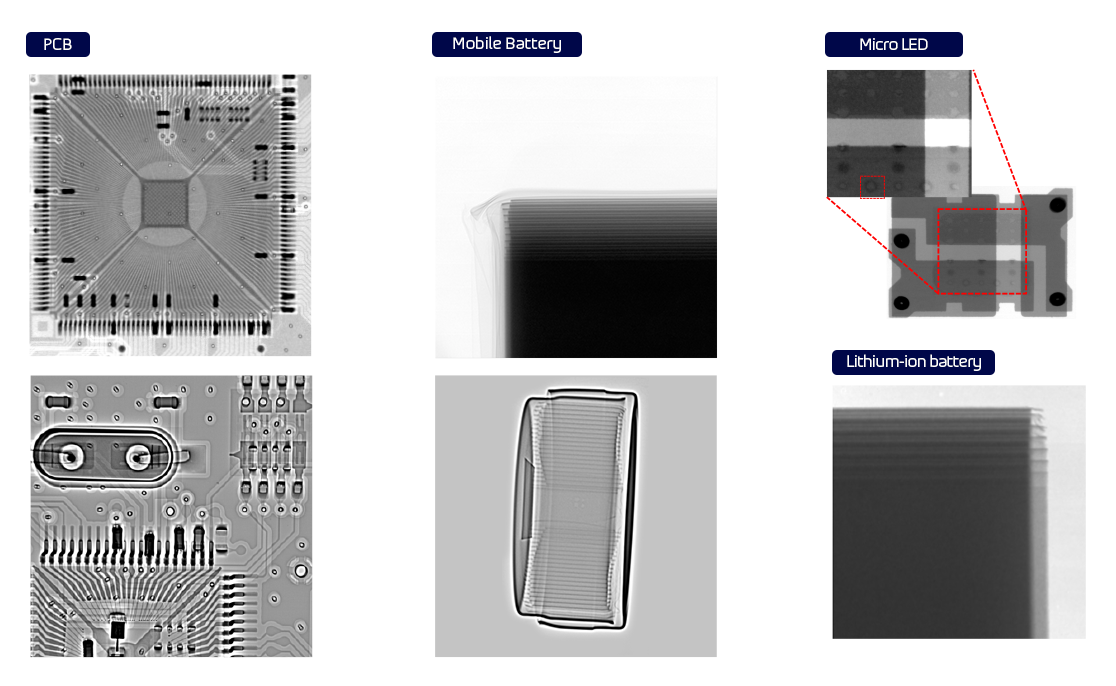 Application







Specification
Sensor Type

CMOS

Scintillator

CsI / GOS

Total Pixel Matrix (Pixels)

2352 x 2944 (@1x1)
1176 x 1472 (@2x2)

Active Area (mm)

116.4 x 145.7

Pixel Pitch (㎛)

49.5 (@1x1)
99 (@2x2)

Frame Rate (fps)

8 /10 (@1x1)
35 / 37 (@2x2)
*GigE / C-link
Energy Range (kVp)

40~225 (Normal)
40 ~ 320 (High energy option)

Power Consumption

24 V / 3.54 A

A/D Conversion (bits)

14

Data Interface

GigE / C-link

Dimension (mm)

240.2 x 160.0 x 33.1

Weight (kg)

2.7
Product design and specifications are subject to change without prior notice to improve product performance.
Downloads are only supported for customers who have filled out information.
The image quality level may vary depending on the product usage environment.

Averaging : Remove the noise of image
Blending : Confirming the difference between levels
Line profile : Available to Image validation based on ASTM Standard.